A few months back, we took our Son and his girlfriend to this really cool restaurant in Ft Collins CO. Called Ginger and Baker. It is a very cool place. When you walk in it's like a Farmhouse store, you can buy all kinds of farmhouse style goods. Right behind that, is a coffee and tea bar. with fresh hand made Pies. and they are good!
Behind the Coffe and tea bar is a room Where they offer cooking classes for couples. Last time we were there, we booked a session for my Inlaws and they loved it! I can wait to go myself!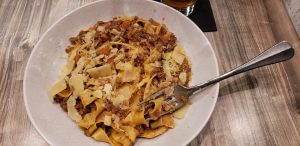 To the left is a cafe where we ate the first time. very neat little place and great drinks and staff. the food was amazing and a little bit higher end than say Applebees. The Beef Bolognese was simply amazing and I would love to have it again. Mer had a prime rib,  the Son had fried chicken and I believe the Girlfriend had pancakes.
"From classic favorites to more adventurous bites, The Cache celebrates the best in Colorado ingredients coupled with great service, an award-winning wine list, innovative cocktails and a beautiful, welcoming space overlooking Fort Collins' River District." ~ Cache
Well, This time we went with some close friends fo ours the Cache restaurant at Ginger and Baker it has a 2019 4.5 star rating on Yelp. and I can see why. the meal was simply amazing the service was amazing. We had 3 different wait staff for just the 4 of us.
Mer Started with a Ceaser Salad, that came with anchovies on a cheese (literally baked cheese) cracker. I ate that, It was so salty good grief.
For her main course, she had the Colorado bison prime rib 8oz  with Anson Mills cheddar polenta and roasted veggie medley. Very very delicious and a great cut of meat. I never knew bison was so good. She complimented it with a Cocktail called Ginger Rush (peach-infused bourbon, orange-honey syrup, ginger liqueur, lemon, orange bitters). Our Friend RP had the same thing.
For my starter, I had the potato Leak soup, as did our Friend JP, it was very creamy and very flavorful. it was topped with Chives cheese and olive oil.
For my main Course, I had the most awesome Tortellini you could have. Blue Crab Tortellini. Lemon-herb cream, capers, piquillo peppers, asparagus, fennel. and it was the perfect portion size. RP and I both complimented out dinners with Avery, White Rascal, Belgian-style White Ale brewed in Boulder, CO.
After that wonderful meal, we elected to go to the Union just up the street for dessert. Our friends each ordered a cheesecake and Mer and I order White Lighting vanilla shakes. oh, boy were the on the strong side with bourbon. We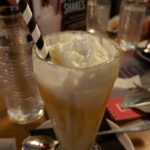 had a good conversation and enjoyed the company. I can't wait to take others to these fine establishments. Go visit them and Enjoy!!!
On our way out we went through the Ginger and Baker shop and I got some new tea. early gray os my favorite and this one did not disappoint. Ginger and baker Linden street Spice. Earl Grey and Ginger Black Tea.