From our Wonderful Twine and Tumbleweeds
Today this lovely table and chairs set went home with an updated look!!
We removed the old 80's (or older?) Stain, sanded and repaired, then applied a fresh coat of Dixie Belle chalk paint in Buttercream.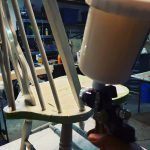 After a Mini vacay, we spray painted the chairs. Tools are the best! Painting these lovely spindly chairs with a brush would not be my idea of a good time. You know what I'm talking about right?
We Rubbed down with clear wax and gently dusted with Dixie dirt in all the right places. The table top and seats are dark coffee gel stained and three coats of poly. There is so much joy in bringing out the beauty in older pieces. So blessed
#twineandtumbleweeds #farmhousechic #furnituremakeovers #dixiebellechalkpaint #wyomingproud #handyhubs